JUDO
Judo was developed at the end of the 19th century by Jigoro Kano. The basis was formed by jiu jitsu, a martial arts intended to become able to kill an enemy without the use of arms.
Kano believed that by bringing in balance body and mind, one could become an individual contributing positively to society. He deleted the most dangerous techniques from jiu jitsu and developed a system of throws and holdings/locks based on the two main principles of his 'judo': seiryokuzenyo, the optimal use of energy and jitakyoei, the principle of cooperation.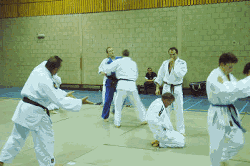 Jan Snijders, eighth Dan, is a well known Dutch judoka. During his active competition period he has participated in all major contests like the Olympic Games in 1964. Jan Snijders became amongst others European Champion in 1962 in Essen. Nowadays Jan Snijders is Refereeing Director of the European Judo Union but still also teaches judo in Oirschot, Bladel, Deurne and Gemert Netherlands).

You are always welcome for a free lesson.
For information: Jan Snijders telephone.: ++31-40-2834883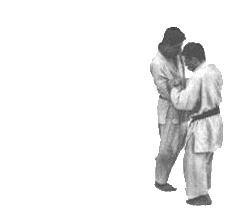 copyright 2005 JudoInfo.Com