JUDO: KYU / BELTS
Color
Japanese name
White

6e Kyu

Yellow

5e Kyu

Orange

4e Kyu

Green

3e Kyu

Bluew

2e Kyu

Brown

1e Kyu

Black

1e t/m 5e dan

Red - White blocked

6e t/m 8e dan

Red

9e en 10e dan
---
Function of the belt / obi
The primary function of the belt (obi) is keeping together the judogi (judo uniform). Moreover the color of the belt indicates the degree of experience/achievement. The system of Kyu-rank system has been developed by Jigoro Kano.
The sixth up to and including first Kyu grade are called student ranks, the Dan-grades are called expert ranks.
To qualify for a next higher rank waiting times and age limits has been determined internationally. A waiting time indicates the period which is minimally necessary for training the skills and increased knowledge to the next level. For the first Dan a minimum age of 16 years applies.
In the Dutch national graduation system the so-called "slippen" system (so called "half kyu) has been determined for the judo youth up to 12 years
---
Tying the Judo Belt

Place one end of obi on the left side of the body, at about the height of the hipbone
Wrap the obi around the body from left to right (two times), until there is just enough of the other end remaining to tie the knot
Bring the end around from the left side and tuck it under all the other layers of the obi, from bottom to top
Fold the tab that protrudes from below over toward the right. Fold the end down over it
Pull the end back up through the loop formed with the tab, and pull both tight to form the knot
The ends of the obi should be approximately 20 cm
The obi should be worn at the height of the hipbones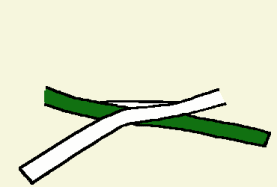 This image was created and copyright © by Anders Dovervik of Stockholm's Judo Club.
Used with permission.